California has a statewide paint recycling program designed and implemented by paint manufacturers with CalRecycle oversight. PaintCare is the manufacturers' stewardship organization that implements this program.
Paint Stewardship Program Products
Architectural paint products sold in containers of five gallons or less can be dropped-off for recycling at many retail and other collection sites throughout California, as a result of California's Architectural Paint Recovery Program. The program establishes statewide requirements to ensure that leftover paint is properly managed in a manner that is sustainably funded. The program does not cover aerosol paints or empty paint containers.
Empty Paint Cans and Non-Program Products
Completely empty aerosol containers and empty paint containers may often be recycled at the curb along with other materials such as paper, bottles and cans. To inquire if you may dispose of empty paint or aerosol containers with your regular recycling service, contact your city or county recycling coordinator or your solid waste service provider.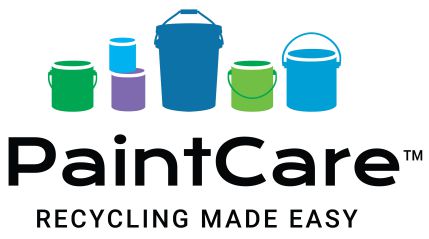 PaintCare is the stewardship organization that implements the California Paint Stewardship Program.
Why focus on paint?
Households and businesses generate millions of gallons of leftover paint each year. In California, paint is prohibited from disposal in landfills and must be recycled or otherwise safely disposed. Prior to the passage of the Architectural Paint Recovery Program (AB 1343, Huffman, Chapter 420, Statutes of 2010), the primary way for residents to properly manage their leftover paint was through local, taxpayer-funded household hazardous waste (HHW) programs. However, due to the immense cost to manage household hazardous waste, local programs typically can only afford to serve between five to ten percent of the residents in their jurisdictions. Historically, paint has represented almost one-third of the material collected through local HHW programs and costs local government millions of dollars to manage.
What is being done?
California was the second state in the nation to enact an industry-led, statewide program to reduce the generation of leftover paint, promote its reuse, and properly manage unwanted leftover paint. The Paint Stewardship Program follows producer responsibility principles to ensure that leftover paint is properly managed in a manner that is sustainably funded.
What can I do?
Find out how Californians are recycling and properly managing paint to keep usable products out of our waste stream, and valuable materials in our economy. Click on the links below for more information.