Across California, there are thousands of non-local buildings and campuses that play an important role in helping California meet our recycling goals for all material types, including organic materials like yard waste and food scraps. Non-local entities include:
Special districts
Federal facilities
Prisons
State park facilities
Public universities and community colleges
County fairgrounds
State agencies
Non-local entities are currently required to maintain mandatory commercial recycling and organic recycling programs, including ensuring that properly labeled recycling containers are available to collect bottles, cans, paper, cardboard, food waste, and other recyclable materials. SB 1383 builds upon these efforts by expanding the definition of organic waste to include food scraps, landscape and pruning waste, organic textiles and carpets, lumber, wood, manure, biosolids, digestate, and sludges.
Collection Requirements for Non-Local Entities
Non-local entities must recycle their organic waste either by:
Subscribing to a collection service that the jurisdiction provides OR
Contracting for collection services independently OR
Self-hauling organic waste to a specified composting facility, community composting program, or other collection activity or program.
Education
Non-local entities must educate employees about organic waste prevention. Staff and administrators must periodically:
Inspect organic waste containers for contamination,
Inform employees if containers are contaminated, and
Instruct employees on how to properly sort material into the correct containers.
Having clear signage and container labeling encourages proper sorting and minimizes contamination. See Containers for container color and labeling requirements.
Containers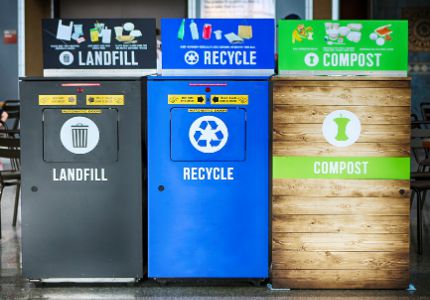 Non-local entities must provide containers to collect organic waste and recyclables in all areas where disposal containers are provided, except in restrooms. However, a non-local entity is not required to provide an internal collection container if a specific material type is not generated in a particular space (e.g., food waste in a classroom or office). Containers must conform to the proper color or labeling requirements:
Non-local entities may use existing internal organics collection containers until they are no longer functional or until January 1, 2036, whichever comes first, as long as they are the correct color.
Alternatively, non-local entities may adhere labels to existing internal containers that identify accepted and prohibited materials.
The internal container must have a body or lid that conforms with the container colors OR must have container labels on new containers that comply with the labeling requirements.
Example: If the collection service is 3 container system, then a green, blue, and gray internal container is required or the 3 internal containers need to be labeled appropriately.
Non-Local entities must ensure new containers are properly labeled by:
Placing labels on containers that include language or graphic images, or both that indicate the primary materials accepted and the primary materials prohibited in that container; or
Providing containers with imprinted text or graphic images that indicate the primary materials accepted and the primary materials prohibited in that container.
Labels shall clearly indicate primary items that are prohibited container contaminants for each container.
Non-local entities may comply by using model labeling provided by the Department.
Waivers for Non-Local Entities
Beginning October 1, 2021, non-local entities can apply to CalRecycle to waive their obligation to comply with some or all of the organic waste collection service requirements [see 14 CCR Section 18986.3(a)]. Visit our Department Approved Waivers web page to determine if a non-local entity meets the criteria to apply for a waiver and to learn about the waiver process.
Commercial Edible Food Generator Requirements for Non-Local Entities
California has a 2025 goal to redirect to people in need 20 percent of edible food currently thrown away. This will help feed the almost 1 in 4 Californians without enough to eat.
Non-local entities that generate food waste may be required to donate edible food to local food recovery services and organizations. SB 1383 places commercial edible food generators into two tiers and non-local entities may meet the definition of tier one or tier two.
Food recovery means collecting edible food that would otherwise go to waste and redistributing it to feed people in need. This is the highest and best use for food that would otherwise go to waste. Feeding hungry people through food recovery is the best use for surplus food and a vital way for California to conserve resources and reduce waste thrown in landfills.
Federal facilities are not required to implement edible food recovery programs but may do so voluntarily.
Click here to determine if your non-local entity is a Commercial Edible Food Generator
Once a non-local entity is identified as a commercial edible food generator, they must follow the commercial edible food generator requirements.
Click here for: Commercial Edible Food Generator Requirements
Non-Local Entities are required to keep records however, there are no reporting requirements. Records may be requested by CalRecycle during a site visit.
Waste Management for State Agencies
State agencies have been paving the way with mandatory commercial recycling and organics recycling, along with AB 2812! Click below to learn more!
Education and Outreach Resources
Non-local entities are required to provide adequate bins, signage, staffing and educate employees and non-employee populations (if applicable) about recycling and organics recycling program participation. We have resources to assist!